Is USPLabs MaxREPS A Solid Pre Workout?
Hello once again to another pre workout review article! This time I will be reviewing a pre workout without any caffeine in it. But can a pre workout that has no caffeine in it still be effective? Well this one may surprise you. USPLabs makes a pre wokout called MaxReps that has no caffeine but still has a ton of the other ingredients that make pre workouts so much fun. Things like increased endurance, a nice pump, and mental focus are other huge factors in deciding in a pre workout. Will MaxREPS fill these factors? Read below and find out!
Ingredients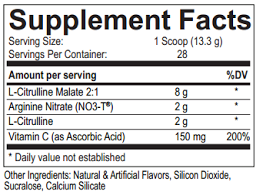 So right off the bat you may notice the giant amount of L-Citrulline Malate in each scoop, 8 grams. A usual dose found in many other pre workouts is around 3 grams. Basically L-Citrulline Malate is different from regular L-Citrulline in that malic acid is added which promotes higher energy. The combination with L-Citrulline which reduces fatigue makes it a great one-two punch to help you get through your workout.
Next in the ingredients is the Arginine Nitrate which is helps you out with the best thing of all, a sick pump. 2 grams is more than enough to help you get skin tearing pumps and give you muscles that "full" feeling we all crave on arm day.
Then there is another 2 grams of regular L-Citrulline which of course is there for more endurance enhancement.
Last on the list is 150 mgs of Vitamin C. High doses of Vitamin C has been shown to improve performance and can also improve the effects of ingredients that improve blood flow.
Taste/Mixability
So at the time the pineapple strawberry flavor was the lowest priced one so I ended up buying it. While I was hesitant about the flavor combination, to tell you the truth it really doesn't taste too bad and would have no problem reordering it if I decide to buy it again.
Mixibility wise it mixes really well and there was no leftover residue after giving it a good shake. So it gets a good grade in that department.
Effectiveness/Side Effects
So one of the main reasons I bought this was to see if it really did give some crazy pumps, and I was not left disappointed. You can feel this pre workout working after a few minutes and you absolutely have to use it on arm day. The pumps I felt after doing some high rep sets of curls should be made illegal. MaxREPS absolutely delivers on the pump promise. Endurance wise it also delivered, allowing me to work through a grueling leg day without leaving me overly fatigued. I do have to say however, I did kinda miss that instant boost in energy a pre workout with caffeine gives me, but if you don't need caffeine then this will still work great for you.
Value
Value wise it is easy on your wallet as you can get a 28 serving tub of MaxREPS for around $20 at most online retailers. Compared to some of the other expensive brands with weird named proprietary blends this is a steal. A fully open label with proven ingredients and a low price? It's a no brainer.
Conclusion
So there can be many reasons you may not want a pre workout with caffeine in it. You may only be able to lift at night and don't want to mess up your sleep. Or maybe you just don't like caffeine. Whatever your reason is for wanting a caffeine free pre workout you will definitely want to look into buying a tub of MaxREPS. For a cheap pre workout it provides some skin tearing pumps and awesome increased endurance!
If you are interested in some other caffeine free pre workouts or creatine free pre workouts check out these articles below:
          Caffeine Free Pre Workouts                Creatine Free Pre Workouts   
As always if you liked this article be sure to like the page on Facebook or follow on Twitter!
 Stay cheap!
---